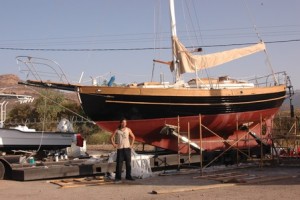 Make: Hans Christian 34T
Designer: Robert Perry
Length Overall: 42 feet
Displacement: 13 tons
Engine: Volvo Penta
Flag: American
Number of bunks: 6
Range: 500 nm under power, 3 months under sail

---
I have been looking for a Hans Christian cutter for a long time, in my opinion these vessels are one of the strongest and seaworthiest small sailing boats available on the market.
Attila It is a classic double-ended design, similar in hull shape to the old whale-boats. designed to operate for years in the toughest climate conditions on our globe.
Attila has been specially modified to accommodate the needs of adventure sailing in the remotest of areas. She has a reinforced rig, to hold the mast up in storm conditions, the hull received several reinforcements, including a collision-zone at the bow, an extra strong rudder, heavy bronze hatches, extra large bilge pumps and all the safety equipment necessary to cross oceans in safety.

Attila is able to stay on sea for 3 months with 4 persons on board, has a range of 1000kms under power alone, has multiple set of sails on board to sail in conditions varying from near-calm to storm force winds. For those ultimate storms we have a 18 foot sea-anchor, 4 anchors with chain and a super-strong set of storm sails.
In case we do manage to sink Attila, we will rely on our self-inflating life raft, our satellite phone, our set of signal flares, a spare Zodiac inflatable, and our 40 liters of emergency water supply to reach the closest port or pick-up point for rescue. During this trips we will always sail within French territorial waters, and within contact range of the relevant authorities.

// Adrian