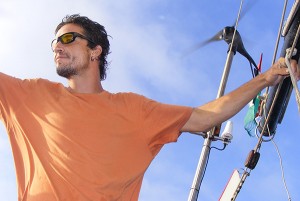 Name: Adrian
Age: 35
Nationality: Hungarian
Speaks: Spanish, English, Hungarian, French (non fluent)
Sailed miles: 30.000+
---
He started to sail at age 23 in Florida, back in 2004. He did not step off the deck of his various boats for more than 2 days ever since. His first trips took him out into the Gulf of Mexico, sometimes for weeks, sailing the coastal areas and offshore isles of both coasts of Florida.
He then started to sail the western Caribbean sea, Mexico, Honduras, Costa Rica and Panama followed, accumulating thousands of miles of sea-time.
After the Caribbean, he sold his small cruiser, and went on to buy a bigger, stronger boat, to pursue his dream of sailing the remotest corners of the world. Started out in the Sea of Cortes with the new boat in 2008, he quickly crossed the Pacific, then the Panama Canal, to sail the Caribbean again, this time with a larger boat and crew.
The first true adventure trips started in the Pacific ocean in 2009 and 2010, first with small expeditions up the remotest , jungle-covered areas of Central America, up the Tuira and Sabana rivers in the Darien area of Panama, then he skippered an expedition to Pitcairn Island, French Polynesia , Robinson Crusoe Island and southern Chile.
Currently he skippers Attila amongst the Marquises Island in French Polynesia
// Adrian